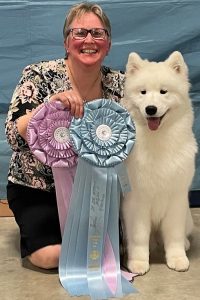 Enzo (GCH Polarfleece's My Ferrari At Nikita) finished his Canadian Grand Championship in 2022.
Enzo closed the year has Samoyed Male  #1              in Canada. In addition, Enzo won the title of Samoyed Puppy #1 and finished third puppy in the Group3 in Canada.
We will complete all the OFA health test during the next year and we are expecting to do a first litter with him by the end of the year.
We also wish send hin in USA to do his USA (AKC) Championship.